What we do
Our mission is to become a leading expert on Chinese automotive brands for global importers and distributors alike:
● Provide independent consulting services of Chinese automotive market.
● Recommend the best Chinese brands and maintain relations for overseas distributors.
● Build long-term partnership with a respectable level of integrity in business practices.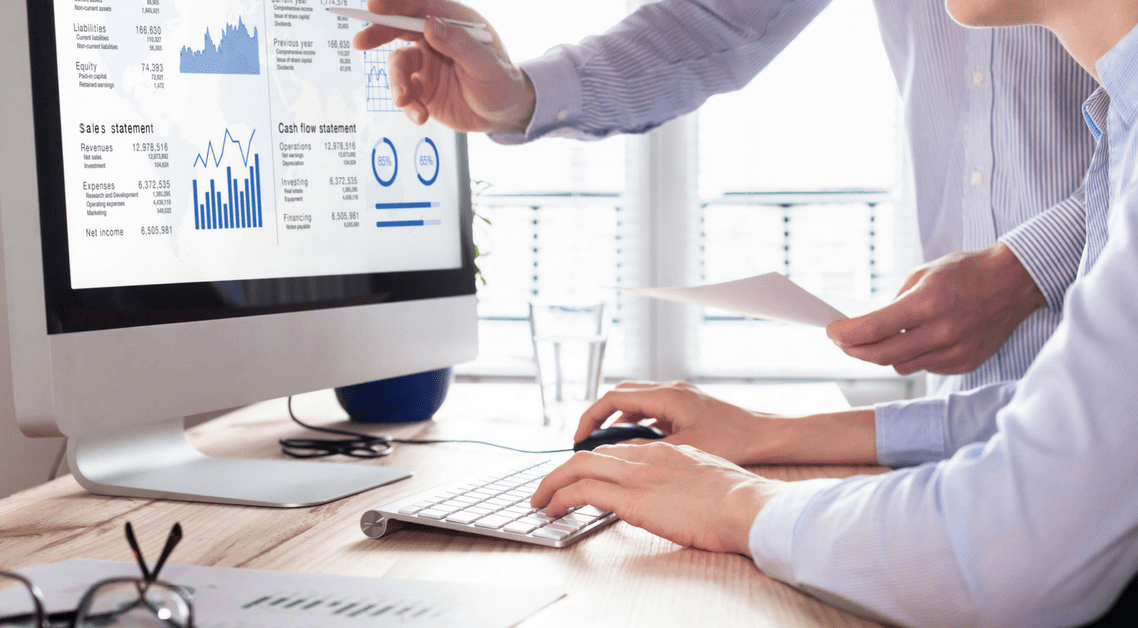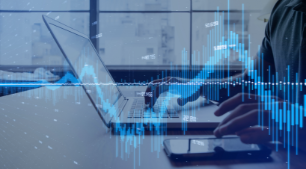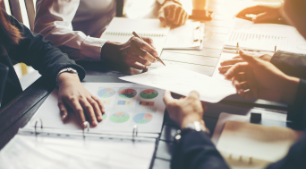 In addition to "hardware" products (databases/reports), Cedars also have proven track record in providing independent "software" services (consulting) to our clients across many countries.
As China's auto industry (especially EV segment) builds up international presence, more and more overseas importers and distributors desire to assess new market opportunities in China. Meanwhile, Cedars are perfectly capable of helping them develop local business, thanks to our deep understanding of Chinese culture, broad industry knowledge and solid connections with local auto brands.
Below are a variety of useful and beneficial consulting services that we can perform, only in the interests of our clients:
1. General support:
1.1 Research on Chinese auto market & ANY local automaker
1.2 Verification of ANY info. about a company or subject
1.3 Advice and assistance for negotiation
1.4 Insight on Chinese business culture
1.5 Comment on ANY other related topics
1.6 Translations (Chinese/English)
1.7 Attending conference on behalf of the client
1.8 Travel arrangement within China
2. Obtaining Chinese brands and maintaining relationships
2.1 Recommending candidate brands
2.2 Contacting key persons at int'l division
2.3 Assistance in reaching group top management
2.4 Assistance in daily communication
2.5 Assistance in meeting and negotiation
2.6 Advice on business plan
2.7 Advice on distribution agreement
2.8 Advice on delivery & shipment
Cedars have so far rendered consulting services, with excellent results and high satisfaction, to clients based in the Netherlands, Denmark, Israel, Chile, etc.
The services fee charged usually includes three types: success fee (per brand per country), flat fee (per month) and trip fee (per day).
Export Database (Brand)
MSRP Database
Sales Database
Export Database (with Brand) is sorted out on a monthly basis by professional analysis of Customs data. It is essential for strategic decision for overseas importers and distributors of Chinese brands.
The database contains 12 items with necessary information to know which company or brand exports what type of vehicles to which countries at what prices and by how many units.

Export Month:01/2014.
HS Code: 87012000. This is customs' harmonized system code.
Vehicle Type: Truck tractor for road use. From here you can know the type, purpose or displacement range.
Category: Truck. The other categories of the column: Passenger, SUV, Commercial, Bus, Truck etc. And Cedars can also customize it in our clients' way of vehicle classification.
Exporter (Brand): JAC.
Exporting Company: Shanghai Wanfa Auto Sales and Service Co., Ltd.
Quantity (Units): 1. An effective tool for analyzing a brand's export performance against its competitors.
Unit Price (USD FOB): 22,572. Clients can potentially negotiate a reasonable FOB price with the exporter based on this data.
Amount (USDFOB): 22,572. Export amount=quantity*unit price.
DestinationCountry: Oman.
Global Region: Middle East The other regions of this column include: Africa, Asia (excluding Middle East), Oceania, South America, North America, Central America and the Caribbean, European Union,Europe (Others), etc.
Plant City/Area: Anhui Hefei Others. You can know where the exporting vehicle was produced.
MSRP Database lists the manufacturer's suggested retail price for all light vehicle models on sale in Chinese domestic market. It is a must-have for those who want to:
• Understand the market positioning of various Chinese light vehicle brands.
• Gain the upper hand in FOB negotiation with powerful Chinese exporters.

Group: Parent group.
Maker: Manufacturing plant.
Brand: All Chinese domestic mainstream brands (excluding foreign brands).
Series: Including many different models.
Model: Including many different versions.
Version: Including information such as model year, displacement, trim level, etc.
MSRP (CNY): The version's manufacturer suggested retail price for Chinese market (priced in local currency).
MSRP (USD): The version's manufacturer suggested retail price for Chinese market (converted into US dollar).
FOB (USD): The version's theoretical (not actual) FOB price for overseas market (estimated by Cedars research team).
Segment: Including basic car, MPV, SUV and minivan (excluding truck and bus segments).
Level: Only available for basic car segment; including A00/mini, A0/small, A/compact and B/midsize.
Dis.: The version's engine displacement.
Sales Database
Sales Database aggregates the monthly sales volumes of all automotive vehicles produced in China including those with CKD/SKD assembly. It is one of the most important and useful tools for understanding the Chinese automotive industry.
It should be noted that sales refer to Factory Delivery and include overseas exports, but exclude sales of imported vehicles.
All data are sourced from CAAM, China's main automotive industry association.
Main Features: Summary lists general sales data by vehicle type, segment and sub-segment.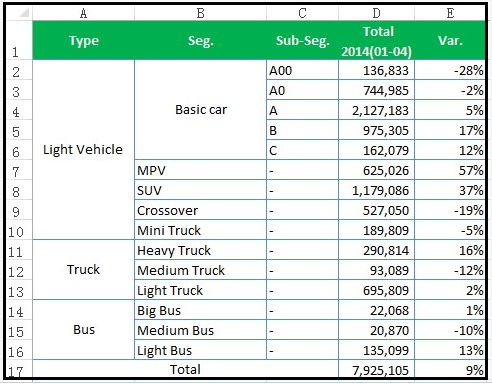 Database lists an auto model's monthly sales volumes and other important indicators (group, maker, brand, brand origin, type, segment, sub-segment, series, displacement etc.).
Currently, sales data of Basic car, MPV, SUV and Crossover (Minivan) by model are available. Those of truck or bus by model are not available.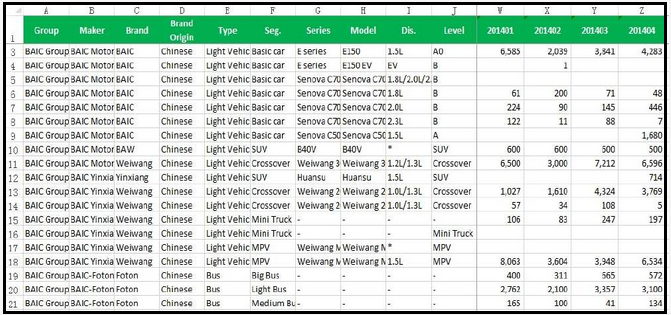 Brand Assessment Report
OEM Report
Price Report
Industry Report
Financial Reports
Brand Assessment Report aims to paint a clear picture of Chinese auto industry landscape. The report analyzes and ranks all Chinese mainstream light vehicle brands, supplemented with an interactive ranking table.
Main Contents: Industry Overview: a quick roundup of Chinese light vehicle market's growth pattern & major developments; e.g.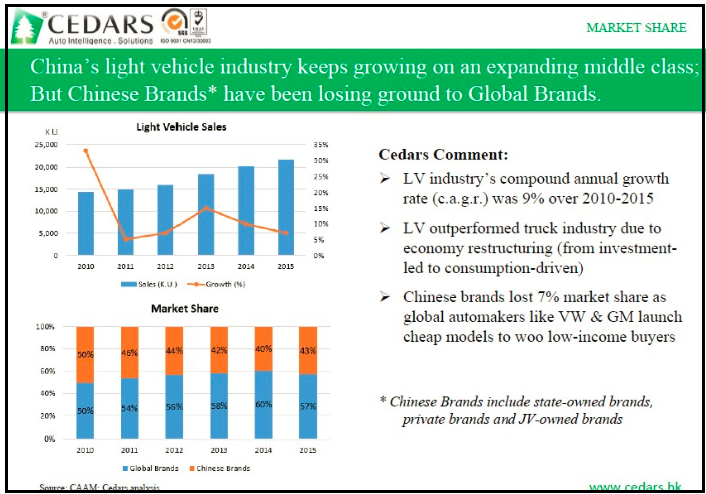 Ranking Methodology: Six-dimensional brand competitiveness analysis along whole value chain; Key success factors include branding, management, financing, R&D. products, and sales; e.g.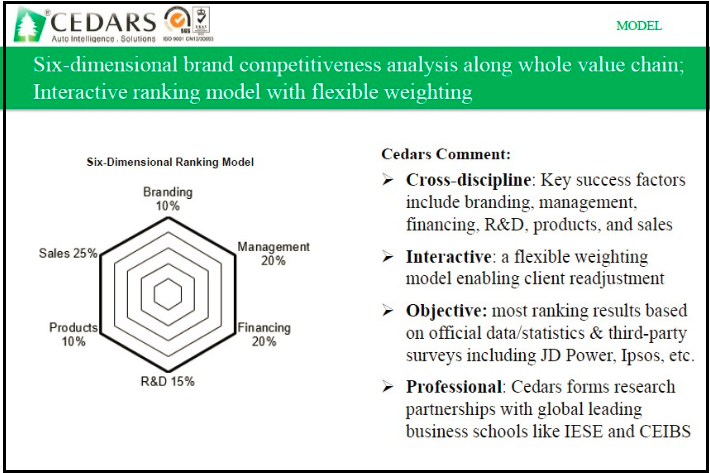 Ranking Results: Present an integrated scoring table for all Chinese mainstream light vehicle brands; provide in-depth analysis for each brand; e.g.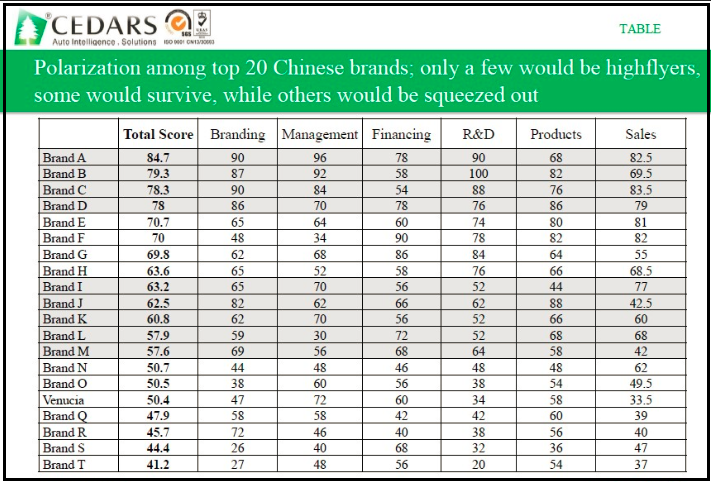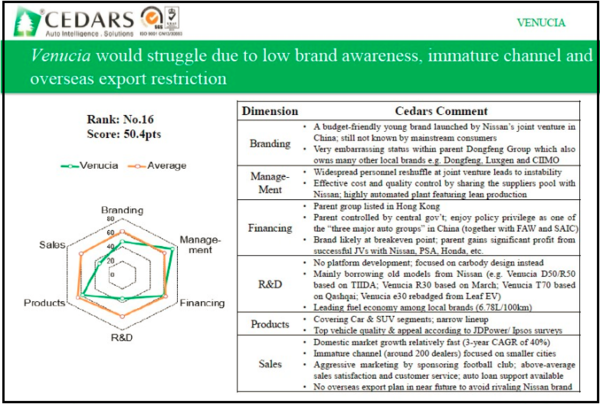 Flexible Weighting: The report is supplemented with an interactive ranking table enabling the client to readjust dimension weights and sub-dimension sub-weights according to their own specific situations.
OEM Report gives a panoramic view of a Chinese automotive manufacturer, including its growth history, equity ownership, product lineup, production capacity, sales performance, financial results, R&D ability, SWOT analysis, etc.
Overview offers the OEM's basic information e.g. founding time, number of employees, annual capacity, etc.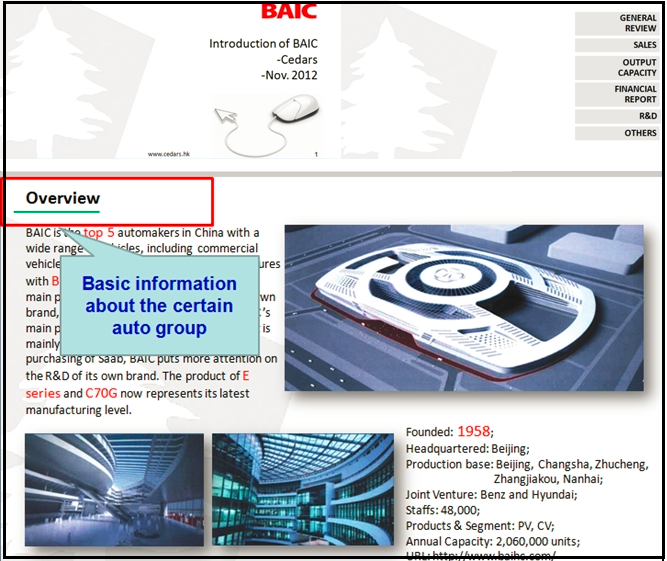 History reviews and visualizes the OEM's evolution.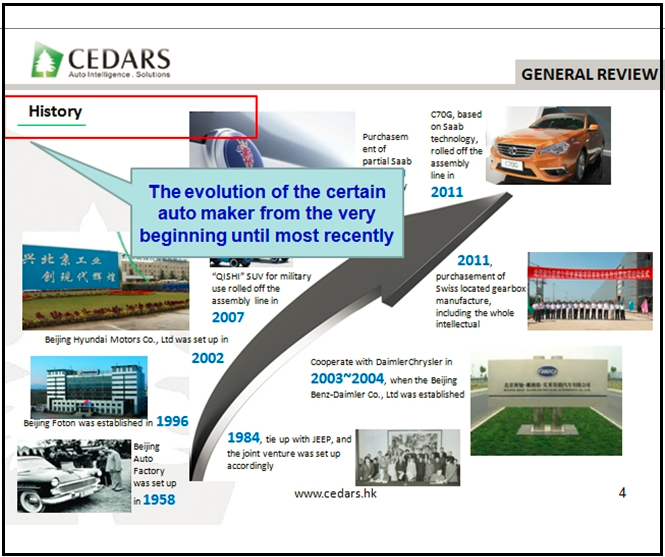 Memorabilia lists all big events, including R&D, HR, investment, new products and marketing policies of the latest two years.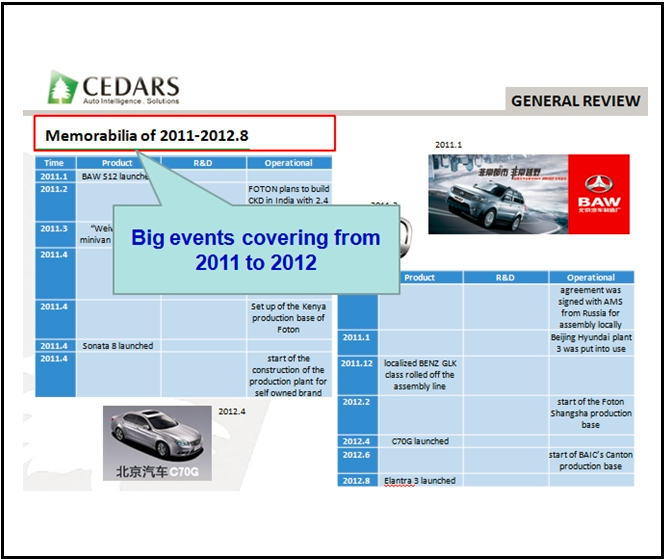 Share structure explains the OEM's equity relationships with its various subsidiaries and joint ventures.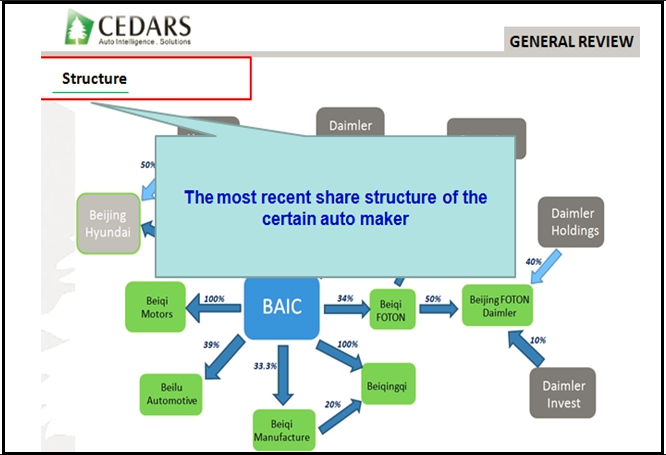 Sales of the latest five years reflect the OEM's real market performance and may indicate its future trend.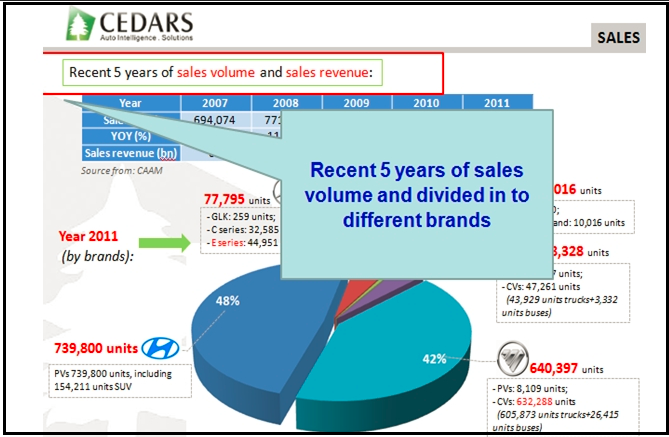 Commercial vehicle sales datareflects its real performance in the domestic market, while the export datashows the exportation percentage of the total sales. Readers could easily have anidea whether the OEM keeps a healthy growth speed or not.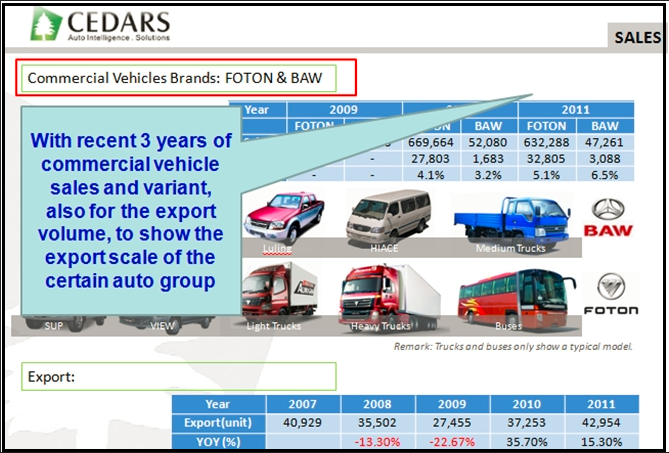 Output capacity, when compared with the sales volume, could indicate whether the OEM has made full use of its capacity or not, which in turn could affect its financial strength.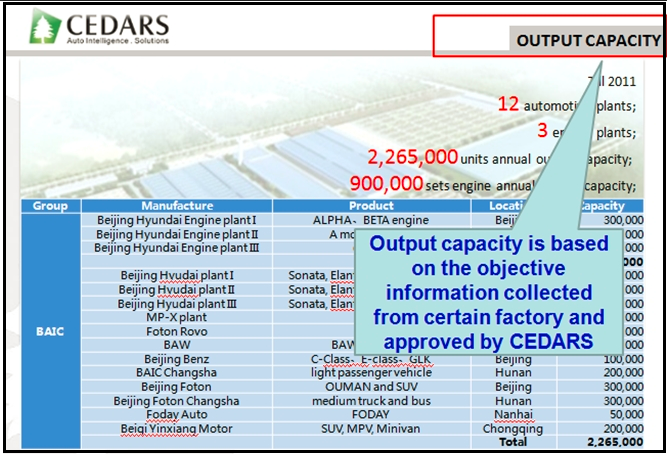 Overseas plants are a core part of the OEM's global expansion strategy. As countries raise import tariff rates to protect their local automotive industries, Chinese brands may speed up localization by building more foreign facilities.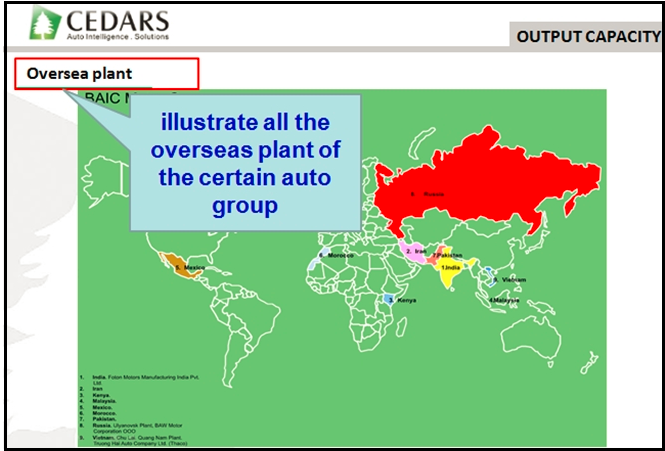 Financial report summarizes the OEM's recent five-year financial performance, according to which readers could find whether it is making money and improving profitability. The stock price chart shows whether Chinese investors have confidence in the stock or not.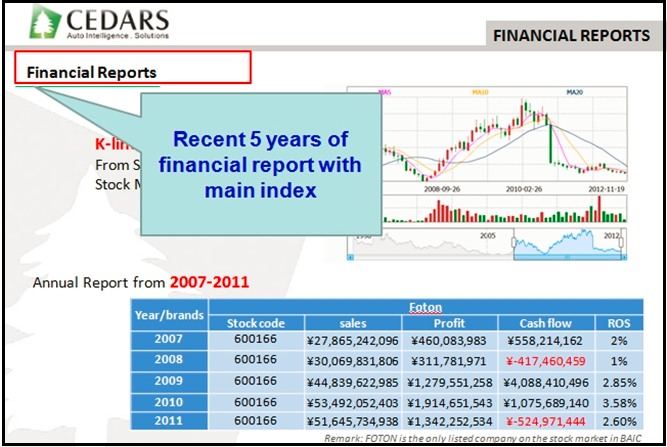 R&D ability evaluates the OEM's technical knowhow and its product launch plan. It can predict whether the OEM would be able to maintain or improve its market position in future.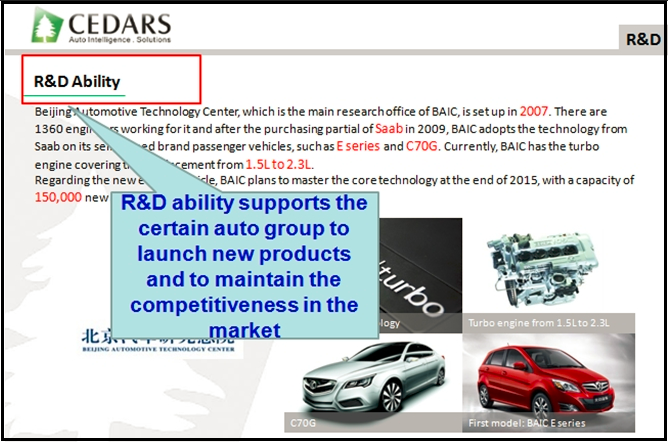 SWOT (strengths, weaknesses, opportunities and threats) is an all-round, professional and objective analysis of the OEM's current status, based on CEDARS' strong industry expertise as well as guaranteed data.
12. Comments combine the OEM's long-term growth strategy with a brief review from CEDARS.
Uniqueness of the Report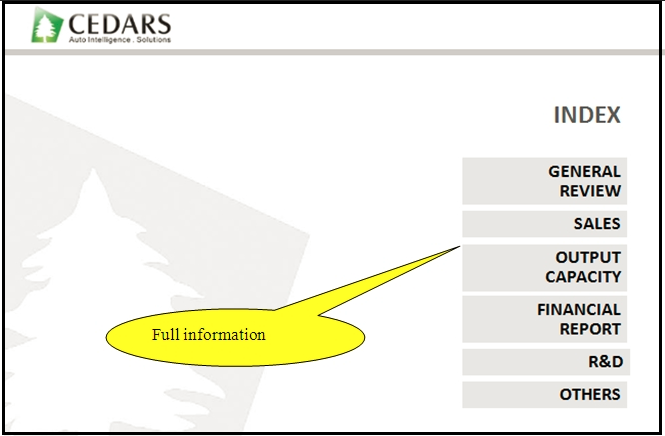 Data from authoritative sources (e.g. CAAM and Customs):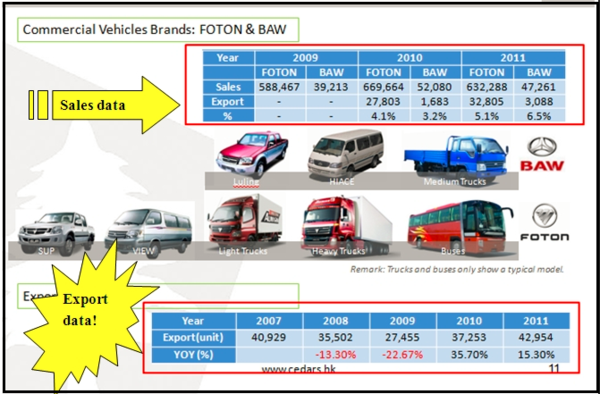 Financial results included (only for listed companies):
Price Report analyzes the differences of MSRP and equipment-adjusted price of passenger vehicles sold in China. This critical information is important for distributors to understand not only the product positioning but also price competition movement of the brands they represent.
Answers to below questions:
1. What is the positioning of selected model in China?
2. What is the exact MSRP in China for the selected model?
3. How about the competing models?
4. What is the sales performance of this model and its rivals?
5. What is the configuration?
6. What should be the reasonable FOB price?
Sheet 1: Executive Summary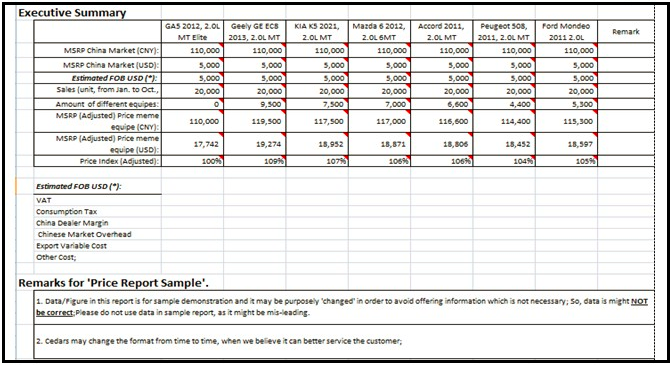 i. Brand & Model. The report includes at least 5 competitors normally. The report can add or adjust to specified brand/model according to clients' need.
ii. MSRP in China Market (CNY+USD), before value adjustment and afterwards.
iii. Estimated FOB USD, based on cost associated with exportation from China. (cost includes VAT, consumption tax, China dealer margin, Chinese market overhead, Export variable cost and other costs).
iv. Sales figures.
Sales figures.
Configuration Details and Value Adjustment.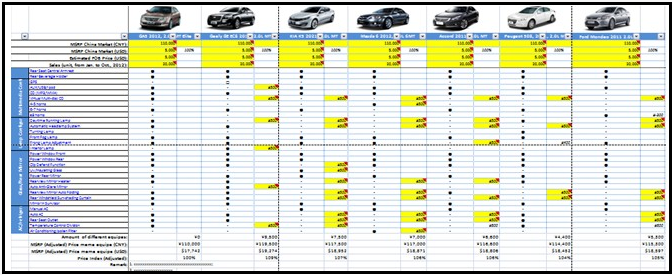 Features:
i. Customize models.
ii. 360°comparisons. At least five competitor models from Europe, America, Korea, Japan & China.
iii. 'Apple to Apple' comparisons.
iv.Estimate reasonable FOB price.
Industry Report summarizes China's macroeconomic trend and offers in-depth analysis of Chinese auto industry' s quarterly performance in terms of sales, exports, financials, products, policies, investment, etc. The report also updates the latest developments of selected Chinese local brands.
Custom research available:
The Industry Report's standard edition excludes regional/brand analysis, while its special editions include regional/brand analysis.
Regional analysis covers up to three countries or markets in the corresponding region; there are nine regions worldwide: Africa, Asia (Excl. Middle East), Central America and Caribbean, Europe (Other), European Union, Middle East, North America, Oceania, and South America.
Brand analysis is only available for Chinese domestic brands (Chery, Changan, Geely, Greatwall, etc.), and the brands' financial performance is only available for publicly traded automakers.
Attached below is a sample of the Industry Report.
Financial Reports are released by all Chinese automotive companies publicly traded in Shanghai, Shenzhen, Hong Kong, New York or any other stock exchanges. They are an important tool for measuring the automakers' financial health including profitability, growth, debt level, etc.