Founded in 2007, Cedars has been specializing in automotive intelligence and sourcing business and is committed to being your reliable supplier. At present, we have branches in mainland China, Hong Kong, and the United States, with customers from more than 60 countries.
Cedars delivers valuable databases and research reports to many international auto importers and provides independent advice for their business decisions. With extensive industry experience and deep understanding of Chinese business culture, we successfully assist our clients in establishing and maintaining partnerships with Chinese brands.
We also provide one-stop solutions for auto parts and related products, including import and export business and sourcing agent service. Cedars strictly implements the ISO 9001 quality management system. With complete sourcing process and outstanding market integration capabilities, we can help you win the market share with good product quality and competitive price.
Cedars pursues a corporate culture of honesty and integrity, and continuously creates value for customers, in order to achieve the sustainable development of "Win-Win-Win" business.
2020

√ VIVN Korean Car Brand Launch

2019

√ Cedars Tensioners/ Idlers

√ AAPEX 2019

√ Automechanika Shanghai

2018

√ Cedars USA

√ Alibaba 10-Year-Old Golden Supplier

2017

√ Equip Auto Paris

√ Automechanika Shanghai

2016

√ Partnership with Roland Berger

√ Agent of Cooper

√ ISO 9001:2015

2015

√ Launch of CEDARS Brand Spare Parts

√ Automechanika Shanghai

2014

√ Partnership with IESE

2013

√ SGS ISO 9001: 2008 certified

2012

√ Partnership with Port of Barcelona & CEIBS

2011

√ Sourcing of Leaf Spring

√ China Agent Business

2010

√ Sourcing for 40+ Countries

2009

2008

√ Auto Parts Sourcing Service

2007

√ Registration
CLARK CHENG
MANAGING DIRECTOR

SUSANNA ZHANG
FINACIAL CONTROLLER

DONALD ZHANG
VICE PRESIDENT, OPERATIONS

ANNA GONG
SALES DIRECTOR

LEON ZHOU
SENIOR SALES MANAGER

DAVIE ZHENG
VICE DIRECTOR, PURCHASING

MUMU LEI
SENIOR PURCHASING MANAGER

DEMING CHENG
QUALITY INSPECTOR

XINPING ZHANG
QUALITY INSPECTOR

ZHEN XIONG
QUALITY INSPECTOR

YULAN TU
FINACIAL MANAGER

SIMON XIAO
SHIPPING MANAGER

SHARON LIU
MARKETING SPECIALIST
Cedars was founded with a vision and mission to prove that business can be done successfully, with integrity and sincerity towards everyone.
Relationship with Suppliers and Customers
Cedars will deal fairly and honestly with all customers and suppliers, with respect and integrity, in accordance with the agreement made with them.
Cedars will honor all the terms of signed contracts made between us and our customers/suppliers, and we shall not violate any provision of any agreement.
Employee Business Conduct
We, as Cedars employees, will conduct ourselves professionally and appropriately at all times in all company-related activities.
Cedarswill not allow its employees to be involved in any strip club activity in the name of Cedars.
We will always conduct ourselves in accordance with local laws.
Cedars believes in, and honors, free and fair business competition. Cedars compete vigorously, but ethically, and legally.
Cedars will not lie to its customers, competitors or anyone else.
Cedars will not make false statements about a competitor's products or services.
Cedars will not involve itself in bribery in any of our business dealings.
Cedars will not give a cash payment (or the equivalent) to influence someone's conscience regarding a governmental decision or a commercial purchasing decision.
Cedars may treat its customers to meals and entertainment or present a small gift to make the relationship friendly, but never to the extent that may affect the objective judgment or conscience.
Cedars will act in the best interest of its business partners and its shareholders.
Cedars will conduct its business in compliance with all applicable customs, and import and export control.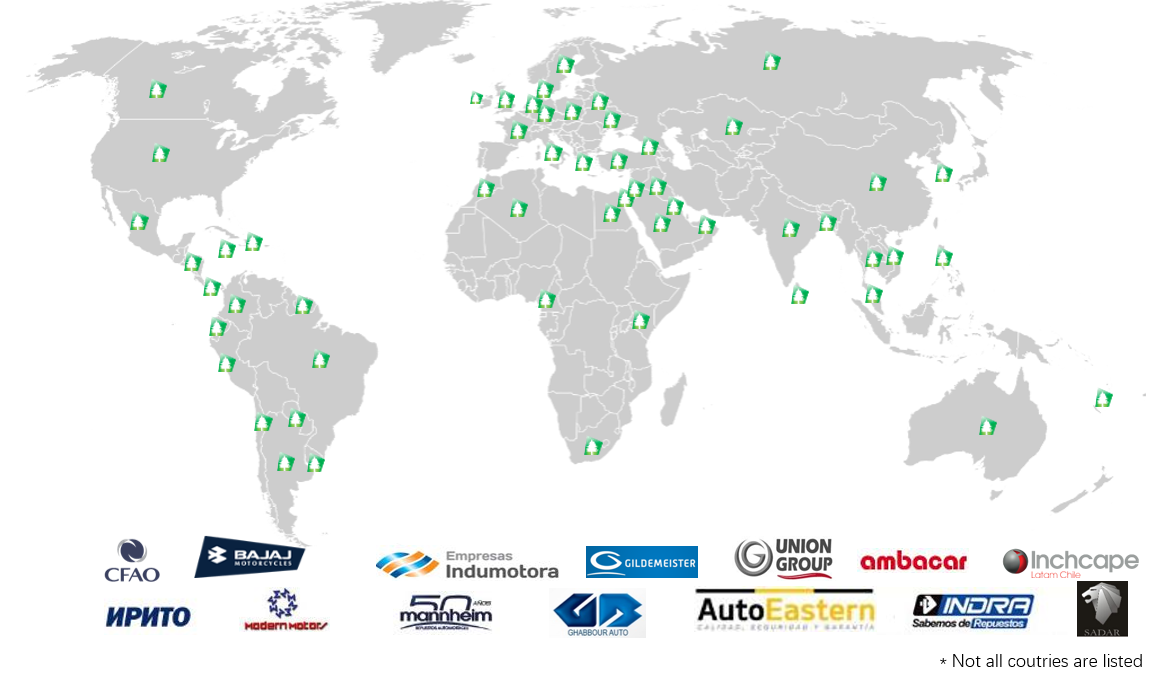 Russia

Automechanika

GAC

Geely

KIA

Korean

Equip Auto Paris

Luxgen

Colombia

Egypt

Dongfeng DFSK

Chile

Turkey