Brake pad
Short Description:
Cedars brake pads friction material has the same quality with the OE material formula. The brakes are sensitive in braking and can match with brake components precisely which makes it easier in installation and has better performance in safety.
Brand Name:: VIVN
MOQ:: 5 pieces
Application Vehicles:: Elantra/Tucson/Sonata/IX35/Sorento etc.
Reference No.:: 58101-A1A00; 58302-2DA00; 58302-C3A10 etc.
Product Detail
Product Packing
Product Tags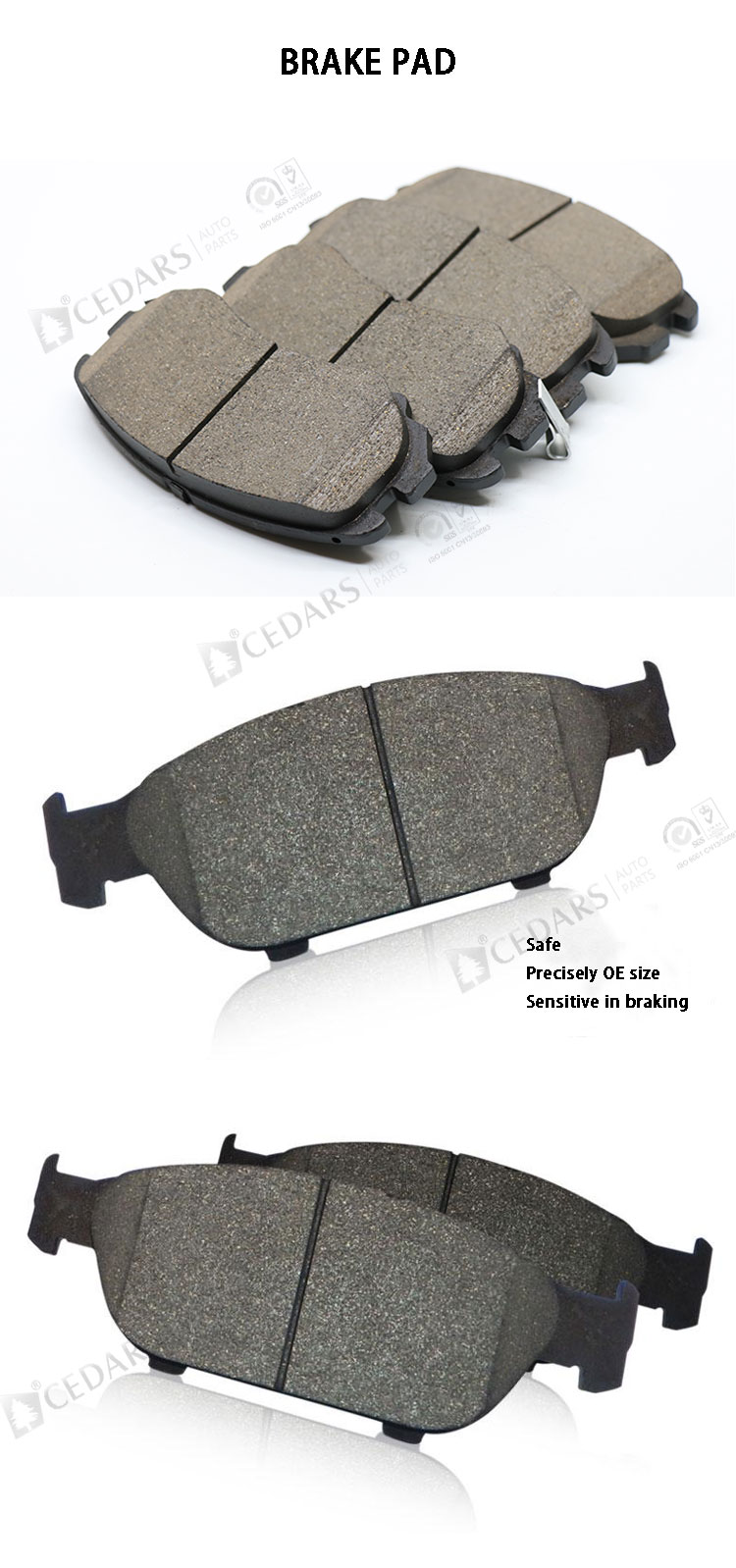 Reference No.
Part Name
Brand
Application Vehicles
Position
Specification
Remark
58101-A1A00
Brake pads
HYUNDAI
Senta fe/IX45
Front
With hole
58101-2SA50
Brake pads
HYUNDAI
IX35/Sportage R
Front
Ceramic D1295
58101-S6A00
Brake pads
HYUNDAI
IX35
Front
Ceramic
58302-S6A00
Brake pads
HYUNDAI
IX35
Rear
Ceramic
58101-08A10
Brake pads
HYUNDAI
Elantra
Front
Ceramic D887
58302-2DA00
Brake pads
HYUNDAI
Elantra/Cerato
Rear
Ceramic D464
58101-3JA00
Brake pads
HYUNDAI
Veracruz
Front
Ceramic D1301
58302-3JA00
Brake pads
HYUNDAI
Veracruz
Rear
Ceramic D1302
58101-C3A20
Brake pads
HYUNDAI
Sonata 9
Front
Ceramic D1815
58302-C3A10
Brake pads
HYUNDAI
Sonata 9
Rear
Ceramic D1313
58302-D3A70
Brake pads
HYUNDAI
Tucson
Rear
Ceramic D1829
58101-F9A00
Brake pads
HYUNDAI
Yuena
Front
Ceramic D1912
58302-F9A30
Brake pads
HYUNDAI
Yuena
Rear
Ceramic D1813
58101-F0A00
Brake pads
HYUNDAI
Lingdong
Front
Ceramic D1912
58302-F0A00
Brake pads
HYUNDAI
Lingdong
Rear
Ceramic D1813
58302-2WA00
Brake pads
HYUNDAI
Sorento/Senta fe 2.4L/3.0L/IX45
Rear
A1A00/2PA70
58101-2WA00
Brake pads
HYUNDAI
Sorento/Senta fe 2.4L/2.7L/3.0L/IX45
Front
A1A00/2BA00/2PA70
58302-2SA00
Brake pads
HYUNDAI
IX35/Sportage R/
Accent
Rear
58302-C9A30/58302-0QA00/58302-B3A00
58302-4VA30
Brake pads
HYUNDAI
Langdong
Rear
58302-4QA00/58302-F9A30
58302-2EA00
Brake pads
HYUNDAI
Tucson/Sportage/Sonata/Moinca/Sonata NF/New Sonata NFC/
Santa Fe/Optima
Rear
58302-38A20/58302-26A00
58101-C9A00
Brake pads
KIA/HYUNDAI
IX25/KX3
Front
Ceramic D1397
58302-C9A30
Brake pads
KIA/HYUNDAI
IX25/KX3
Rear
Ceramic D1157
58302-0QA00
Brake pads
KIA/HYUNDAI
Yuedong/Forte/I30/Mistra/K4/IX35/
Sportage R/Accent/Langdong
Rear
Ceramic D1157
58101-B5A10
Brake pads
KIA/HYUNDAI
K3
Front
Ceramic D1593
58101-B3A00
Brake pads
KIA/HYUNDAI
Mistra/K4
Front
Ceramic D1447
58302-B3A00
Brake pads
KIA/HYUNDAI
Mistra/K4
Rear
Ceramic D1157
58101-0UA00
Brake pads
KIA/HYUNDAI
Verna/K2/Langdong/K3
Front
Ceramic D1593
58101-F8A00
Brake pads
KIA/HYUNDAI
Tucson/KX5
Front
Ceramic D1826
58302-F8A00
Brake pads
KIA/HYUNDAI
Tucson/KX5
Rear
58302-C3A10/58302-F0A00
58302-4QA00
Brake pads
KIA/HYUNDAI
Sonata 8/K5/Verna/K2
Rear
58302-4VA30/58302-F9A30
58101-0QA00
Brake pads
KIA/HYUNDAI
Yuedong/Forte/I30/IX25/KX3
Front
58101-C9A00
58101-2EA21
Brake pads
KIA/HYUNDAI
Tucson/Sportage/Sonata/Moinca/
Sonata NF/New Sonata NFC/Optima/Sonata 8/K5
Front
58101-3KA61/58101-4QA00
58101-4QA00
Brake pads
KIA/HYUNDAI
Sonata 8/K5
Front
58101-2EA21/58101-3KA61
58101-4VA00
Brake pads
KIA/HYUNDAI
Langdong/K3
Front
58101-0UA00/58101-F9A00
---
Previous:
Brake master cylinder 58510-2E100
Next:
Clutch slave cylinder
---